Shop info
Supplier : PHONG PHU CORPORATION
48 Tang Nhon Phu, Quarter 3 - Tang Nhon Phu B Ward - District 9 - Ho Chi Minh
The manufacturing systems of Phong Phu home textile products with key products as towels, blankets pillow cases, bathrobes, socks, aprons... All are manufactured on modern equipment lines, using a closed technology line from weaving, dyeing and garment complete production capacity reaches over 500 tons/month.
Phong Phu home textile products are product following the quality management system ISO 9001:2008, Environmental Management System ISO 1400:2004, have the quality standards of Oeko-tex Standard 100 of safety for users and friendly for environment. Raw materials used for the production of natural origin, environmental friendliness as cotton, silk, wood, oak, bamboo, silk, soy, milk... combined with the using of modern production processes, no harmful chemicals so the home textile products consistently achieve with many outstanding function.
Tolerance of yarn count matching ASTM D1059 standards.
Tolerance of yarn density matching ASTM D3775 standards.
Tolerance of weight matching ASTM 3776 standards.
Tolerance of size matching AATCC135 standards.
Breaking strength and long action matching ASTM D5034 standard.
Color fastness to light matching AATCC16 standards.
Color fastness after washing matching AATCC61 standards.
Color fastness to rubbing dry and wet matching AATCC 8 standard.
Permeability in water matching ASTM D4772 standards.
Defect analysis matching ASTM D3990 Standard.
Towel with Antimicrobial test matching AATCC100 standards.
Towel products of Phong Phu with famous brands like Mollis, MACIO, Venti, Tepido, Hai Van, seals... using natural materials, environmentally friendly, such as silk, oak, bamboo, soy, milk... with the weave patterns, printing, embroidery, dyeing characteristics. Phong Phu cotton linens give consumers a pleasant experience in terms of features, the diverse designs and gadgets. Towel products occupy 40% of the domestic market and other products expand export to international market.
Beside towels, bath towel Phong Phu also produces other home textile products items such as blankets, pillowcase - brand name Pelife, curtains, socks - brand name Open... brings the diversity of product lines. Currently, Phong Phu is expanding into the field of laundry and rental of home textile products with modern equipment systems, closed-international standards for hotels, apartments, restaurant, gyms, spas... from the leasing stage to laundry products of professional textile in Vietnam. Products supplied include all kinds of towels, blankets, sheets, pillow cases, bathrobes, rugs, slippers, curtains, tablecloths, staff uniforms, chef uniforms...
The home textile products are produced by Phong Phu concentrated in HCM City, Da Nang. Using modern equipment from Japan, America and Europe Textile Engineering Tsudakoma, Sulzer Ruti electronic Jacquard weaving, dyeing and finishing lines with closed equipment continuous, high-pressure dyeing machines MCS and machine width Tumler 2,4m with many workforce have over 25 years of experience.
Product quality is built according to international standards, are strictly tested by the technical indicators measuring equipment, modern control such as dyeing machine Mattris, color fastness meter machine.
| | |
| --- | --- |
| Code | BMH8 |
| Product name | Towel |
| Material | Nontwist |
| Size | 70 x 140 cm |
| Weight | 402,00 g |
| Color | Red, blue, green |
Logo
Phong Phu's logo image in the certificate have NO 197,304 was registered at the Department of Intellectual Property of Vietnam
• The meaning of the logo:
Logo Phong Phu Corporation is designed in modern style, simple but very powerful and impressive, easy to identify. Icon brand is conveyed through two key components: Graphical symbols and symbol.
The symbol of the logo graphic is made up of two letters PP 2 stylized as silk ribbon (cloth), running (bending) from axes fabrics. axes fabric as the sun was shining brightly for Phong Phu. This is the core business of the Corporation in the long history of development.
Phong Phu symbol on the right is the name of the company is designed by a straight font, bold, bright red, strongly affirmed, definitively of the employer brand.
Red is a hot color, reflecting the drastic, is the belief of success and victory. Gray of red cloth makes sweeping in harmony, flexibility. Five red in the ocean, gray than red is negative, yin and yang are adhered merged together. The combination of contrast between yin and yang colors help recognizable image of the Corporation in any situation and created a strong unity.
Looking at the Phong phu's logo had brushstrokes firmly as soft as water, had the power of soft. Confidently satisfy customers with the motto "To enrich your life".
Introduction
(1964) On October 14th, 1964 we broke ground at the Sicovina Phong Phu Industrial Park, which was a subsidiary of the then-named Vietnam Fiber Fabrics Industrial Corporation
(1966) The factory started with three workshops where we did spinning, weaving and dyeing. We had 1,050 employees at that time and our main products were the production of yarns and fabric.
(1975) The factory was renamed as Phong Phu Weaving Factory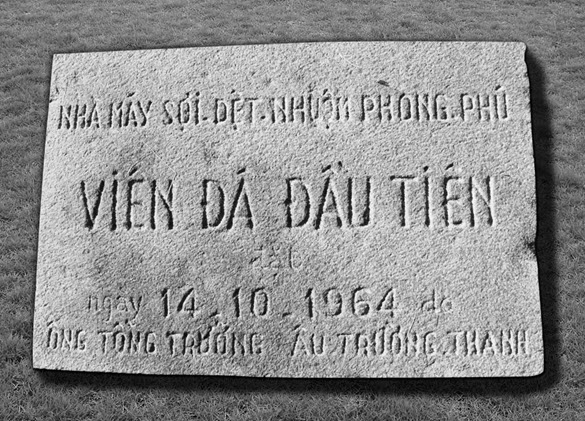 (1980) Phong Phu adds denim and polyester fabrics into its production lineup. During the period of 1976-1985, we achieved 10-15% growth year over year in production capabilities and financial returns
(1986) Phong Phu begins production of its terry towel, denim and kate fabric lines
(1989) Phong Phu enters into a Joint Venture (JV) agreement with Coats company from the United Kingdom to manufacture sewing thread in Vietnam. The new JV, Coats Phong Phu, soon thereafter became the leader in sewing thread production in Asia.
(2006) Phong Phu restructures the organisation of the company and becomes fully equitized corporation with a holding company and affiliates.
(2007) Vietnam's Ministry of Industry and Trade issues official recognition of the new structure of Phong Phu Corporation
(2009) Phong Phu successfully holds its first shareholder meeting in January of 2009.
(Today) Phong Phu continues to innovate and experience international growth, reaching out to more customers while providing strong return on investments for shareholders. Phong Phu has now established itself as a reputable international quality garment manufacturer with a true global reach.
Vision - Mission - Core Value
Vision
Mission
Core Value

We aim to become a leader in Asia in the fields of textile manufacturing and financial investments.

To create products and services with premium quality which always exceed customer expectations.

To maintain a highly skilled, happy and talented work force

To always maintain a safe and healthy work environment for everyone

To always be solution oriented

To foster a climate of creativity and innovation

Customer Focused

Strong emphasis on financial returns for corporate shareholders

Honesty

Professionalism

Always give back to our community
Arward
1. Awards of labour hero from the government

2. Independence medal, 1st class, 2nd class, 3rd class from the government

3. Labour medal, 1st class, 2nd class, 3rd class from the government

4. Victory medal from the government

5. State enterprises Typical from the government

6. Flags Competition of Prime minister

7. Flags Competitive from ministry of Industry and Trade

8. National Brand name

9. Vietnam gold star award

10. Vietnam high Quality goods

11. Enterprise Integration and Development

12. Top 10 Vietnam Brands name

13. Vietnam excellent Brand name

14. Business reputation

15. Top 200 enterprises with the scale and the largest revenue in Vietnam

16. Top 10 best suppliers of the group Target

17. Gold Cup for the development community

18. Vietnam Compassion award